INFORMATION ABOUT HERONS' WHITEMOOR LAKES VISIT, 5-7 OCTOBER
INFORMATION ABOUT HERONS' WHITEMOOR LAKES VISIT, 5-7 OCTOBER
13 August 2020 (by Tim Jewitt (admin))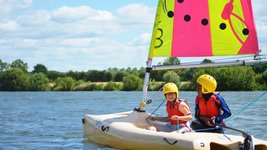 Information for Year 3/4 children due to attend the Whitemoor Lakes residential, 5th-7th October:
We are delighted to inform you that our visit to Whitemoor Lakes will still be going ahead; however there will be a few changes as overnight visits are still not permitted:
Rather than a 2-night residential, we shall be taking part in two 'Action Plus' days on Monday 5th and Tuesday 6th October. This will include: Arrival at 8:30, breakfast, two morning activities, hot lunch, two afternoon activities, pick up at 5:30pm.
Children will need to be dropped off and picked up at the centre which is about 14 miles away from Snarestone. This is a significantly cheaper option than booking a coach.
The cost will be £98 per child. Any monies already paid, and any monies paid by Y3 children for the cancelled Beaumanor Hall visit, will be put towards the cost of this visit.
We will be in touch again about this soon, but hopefully it gives you an idea of what we are planning.
Many thanks
Tim Jewitt