Our History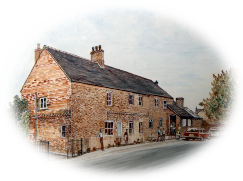 Snarestone Church of England (Aided) Primary School is situated on Main Street in the heart of the village's conservation area. It has been a school since 1717, when 3 cottages were donated by a Mr. Thomas Charnells for the education of the children of the village. These cottages form the frontage of the present school. Extensions were built in Victorian times and in 1973. A group of trustees meets annually to support our provision, and incredibly, they have minutes of all their meetings since the first one in 1717.

Although partly housed in historic buildings, our school facilities are modern and vibrant. We have three classes - Swans, Herons and Kingfishers (named after canal birds) as the Ashby canal runs through Snarestone village.
Outdoors we are lucky to have large, flat extensive grounds with a wooden playframe, nature area and pond, and the children visit our own allotment in the village to learn about growing their own vegetables. As a green-flag eco-school, and gold award Woodland Trust school, we are keen to encourage learning in the outdoors, and utilise this space to enhance the learning opportunities of all the children.

Our school is an important part of the village. We recognise the benefits of developing effective relationships with our local community, and have strong links – for example a gardening club, allotment group, and an annual pantomime performed by the villagers. As a church school, we are particularly proud of our strong links with St Bartholomew's church, regularly visiting and welcoming members of their community to enhance the children's Christian knowledge, understanding and worship. We also welcome visitors from faiths and religions other than Christianity to develop understanding, respect and tolerance of a range of faith and belief.
To find out more about Snarestone itself, please go to snarestoneparishcouncil.org.uk and see the area that our school is at the heart of.